Introduction
Coming across captivating videos have become a part of our daily online experience. Platforms like Instagram, twitter, facebook etc, are brimming with engaging content. Whether it's a hilarious cat video or a tutorial from your favorite influencer, the desire to download and save these moments for offline viewing is quite common. While most social media apps do not offer a built-in download feature, there are various apps and services available that can make it easy to save social media videos and photos to your device. In this article, we'll explore some of the best apps and methods to download social media content and provide a step-by-step guide to help you get started.
How to Download Social Media Videos:
Before we dive into the best apps for downloading Instagram videos, let's walk through the basic steps to save these captivating moments to your device.
Step 1: Copy The URL Link
The first thing you need to do is locate the Instagram video post you want to download. Once you've found the video, copy the URL link to that post.
Step 2: Paste The URL In Instagram Downloader Service
After copying the URL to the video post, the next step is to paste this URL link into an Instagram downloader service or app. Below, we'll discuss some of the most popular options available.
Step 3: Hit The Download Button And The Download Starts Immediately
After pasting the URL, simply hit the download button, and the downloading process will commence. Your chosen app or service will do the rest of the work.
Must Read:Best Apps To Buy Crypto In The USA 
Here Are 10 Apps You Can Use To Download Social Media Videos
Fastvid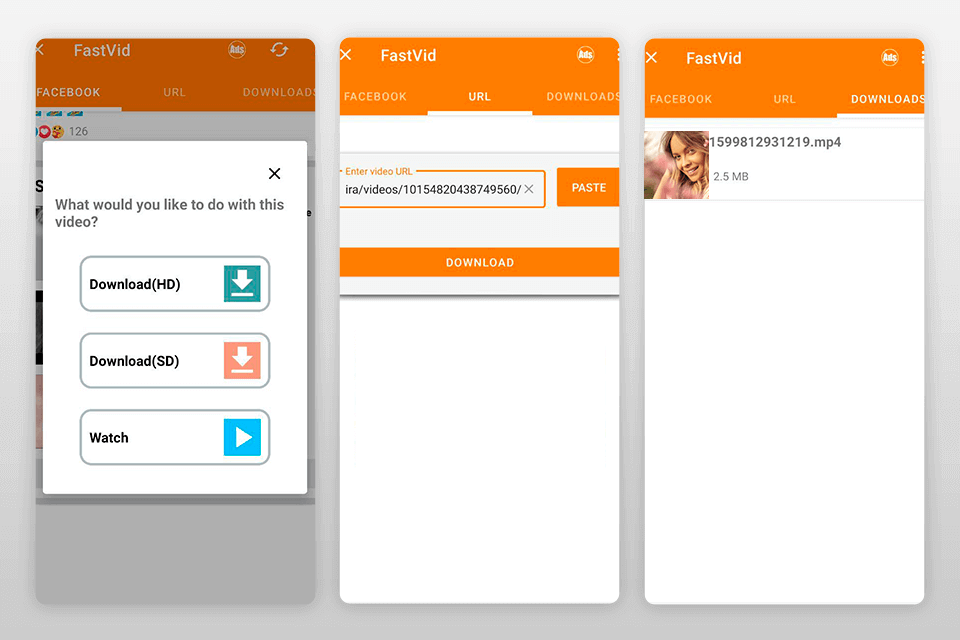 FastVid is a dedicated video downloader, tailor-made for Facebook. What sets it apart is its simplicity and efficiency. Users can save their favorite Facebook videos without hassle, without the need to log in or engage with Facebook directly. The process is as easy as sharing the video link with the app, and FastVid takes care of the rest.
FastVid's primary mission is to make video downloading from Facebook a breeze. Gone are the days of laboriously searching for third-party tools or navigating through complex procedures. With FastVid, it's all about simplicity. Share the video link with the app, and it quickly fetches the video for you. This user-friendly approach makes it accessible to even the most novice users.
One of the key advantages of FastVid is that you don't need to be logged in to Facebook to use it. This is a significant departure from many other video downloaders, which often require users to log in to their Facebook accounts, compromising privacy and security. FastVid respects your online footprint and focuses solely on the video download process.
FastVid isn't just a means to download videos; it's a complete video management tool. Once you've downloaded videos, you can conveniently save and watch them from within the app. This eliminates the need to clutter your device with numerous video files, and it offers an organized way to enjoy your favorite content.
If you prefer not to use the official Facebook app, FastVid has you covered. The app features an integrated browser, enabling you to browse Facebook and access video links without relying on the primary application. This flexibility adds to the overall convenience and user experience.
While some video downloaders might be plagued by bugs or irregularities, FastVid shines when it comes to its core functionality—downloading videos. Users can rest assured that the download process works smoothly, allowing them to obtain their desired videos hassle-free.
Admittedly, like many apps, FastVid isn't without its minor flaws. Some users have reported occasional hiccups with certain features. However, the crucial aspect of video downloading remains dependable, making FastVid a reliable choice for those who seek a straightforward solution.
Tmate
Whether you're an avid TikTok user or simply want to save a video that caught your eye, the Tmate app emerges as a promising solution. With no login required and an assurance of watermark-free downloads, it's no wonder why Tmate has garnered a significant user base.
Tmate stands out for its simplicity. It offers a hassle-free way to download TikTok videos, ensuring that you have a copy saved to your device for offline viewing or sharing with friends. The process is straightforward – you share the TikTok video's link with the app, and it swiftly initiates the download. This straightforward functionality is a breath of fresh air for users seeking a convenient solution for video downloads.
One of the primary concerns when downloading TikTok videos is the presence of watermarks. Tmate is watermark-free, and many users who have tested the app confirm this assertion. The absence of watermarks ensures that the downloaded videos maintain their original quality and can be enjoyed without any unsightly branding.
While Tmate appears to be a reliable and efficient solution for downloading TikTok videos, the long-term use and sustainability of the app may still be up for debate. Given the dynamic nature of the digital landscape, app features and performance can evolve over time. To ensure its continued reliability, it's a good practice to stay updated with user reviews and any potential changes to the app's functionality.
Video Downloader
Video Downloader is a versatile app that allows users to download social media videos and photos. It also offers a convenient feature to repost content to your own social media account. With over 50 million downloads on the Google Play Store, it's a popular choice among users.
FastSave For Instagram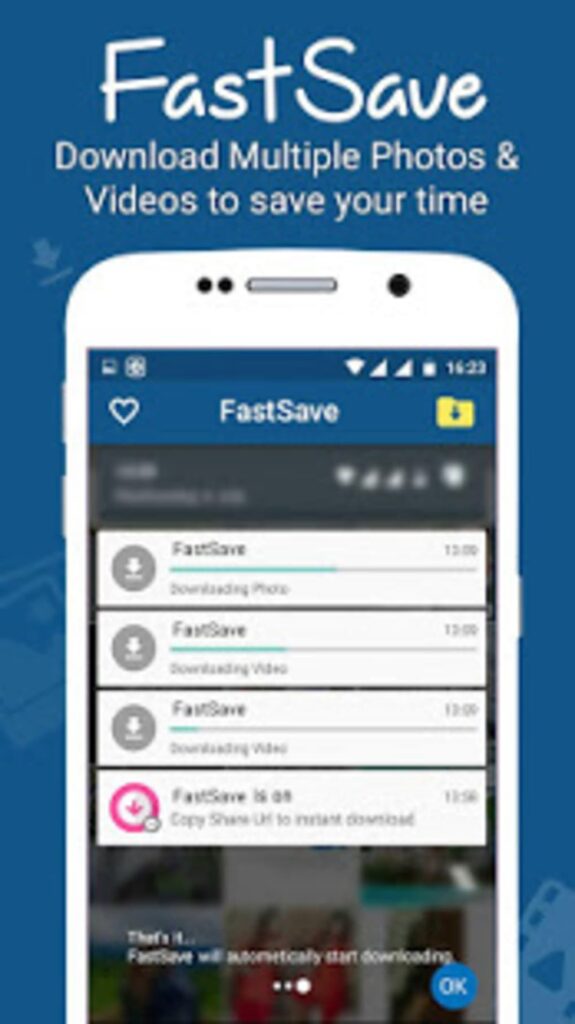 FastSave is a top-notch app for downloading Instagram videos. It's known for its speed and simplicity. The best part is you can view the downloaded content offline, and there are no annoying watermarks. FastSave has garnered over 10 million downloads on the Google Play Store.
Instake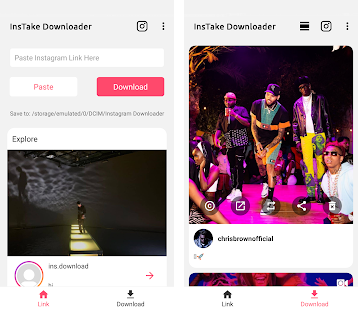 Instake is an excellent option that works for both IOS and Android devices. It boasts a user-friendly interface and lightning-fast download speeds. What sets Instake apart is its ability to download multiple videos and images simultaneously, making it a favorite among iPhone users.
All in One Video Downloader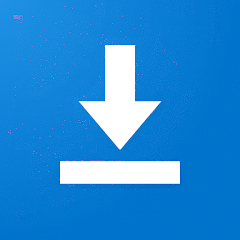 The "All in One Video Downloader" app is designed to make video downloads very easy. With its simple yet effective functionality, this app is your go-to solution for grabbing videos from your favorite social media platforms.
Using the All in One Video Downloader is easy. Start by finding the video you want to download on Facebook, Instagram, or Twitter. Next, copy the share link to your clipboard. Now, open the All in One Video Downloader app, and paste the link into the provided field. A few clicks later, you'll have your desired video saved on your device.
This app also have a built-in video player, allowing you to watch the videos you download without having to switch to another application. This convenient feature ensures a stress-free video-watching experience, all within the same app. Of course, you can always use your device's native video player if you prefer.
While the All in One Video Downloader generally does an excellent job, like any app, it's not without its occasional quirks. Some users have reported intermittent issues with downloading videos, particularly when used frequently over a short period. However, for most users, it consistently delivers the videos they want.
The All in One Video Downloader is a handy tool for video enthusiasts who wish to download content from Facebook, Instagram, and Twitter effortlessly. With a simple user interface, a built-in video player, and the capability to handle various social media platforms, it's a great addition to your app arsenal.
InstaGet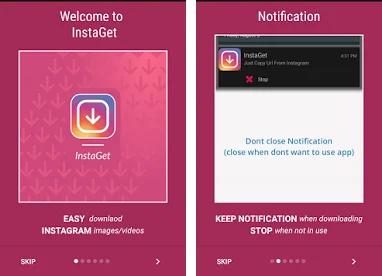 InstaGet is your solution to saving Instagram videos and photos without the need to reload your Instagram feed every time you want to view them. It's not just for downloading; you can also repost and share these media files with ease.
InstaSaver
InstaSaver is another impressive app that makes it quick and easy to download videos and pictures from Instagram. It's praised for its user-friendly interface and data encryption feature. You can even use this app to download Instagram stories. Android users will particularly appreciate its reliability and lack of bugs.
Friendly Social Browser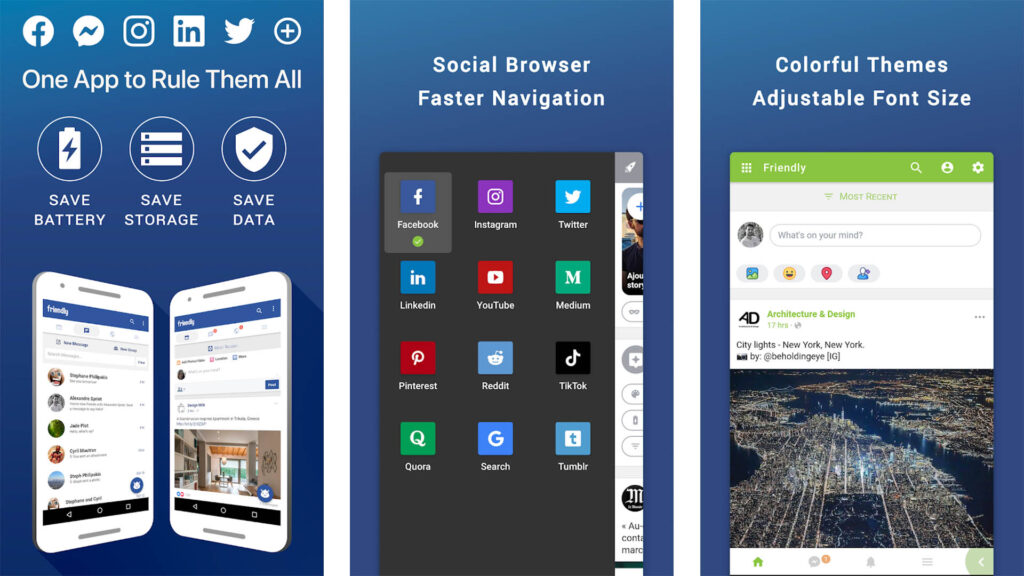 Friendly Social Browser is designed with the user's convenience in mind, offering a unified platform to access all your favorite social media profiles. Ranging from Facebook, Instagram, Twitter, or Reddit, this app brings them all together in one place, streamlining your online interactions and making your life a whole lot easier.
No more switching apps or tabs to check your social media profiles. With Friendly Social Browser, everything is under one roof. This means you can easily scroll through your Facebook feed, check the latest Instagram posts, stay up-to-date on Twitter, and dive into the world of Reddit, all from a single application. It's your personalized social media dashboard, and it's right in your pocket. With its built-in features, you can easily download images and videos. No more hunting for those shared gems; save them within the app and enjoy them at your convenience.
The app offers robust privacy features that are sure to resonate with privacy-conscious users. These features ensure you can enjoy your social media experience without intrusive ads and without being constantly tracked across the internet.
Whether you're a casual social media user or a fervent follower, this app empowers you to take control of your online interactions.
Friendly Social Browser is more than just an app; it's a solution to the challenges of modern-day social media management. It brings your favorite social networks together, simplifies content discovery and consumption, and offers solid privacy features to protect your data.
Savefrom.net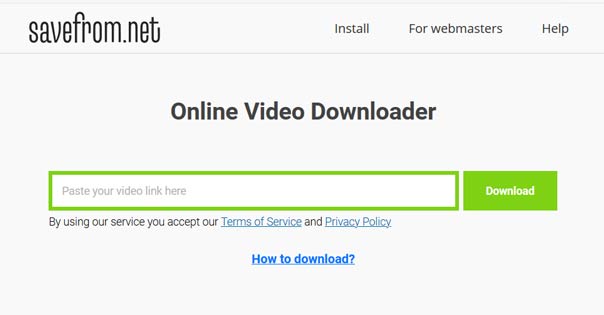 This differs from the other apps as it is a website that provides the versatility of downloading not only social media videos but also audios, videos from different websites and videos from youtube as well. Alot of people prefer using this website because it requires no app download to use this service.
Use this link to go to the site: https://en.savefrom.net/391GA/
Conclusion
With any of these apps on your phone, you can be sure to download and save all the exciting videos and photos you love from social media. You can even share them with your friends without any stress. The choice of which app to use ultimately comes down to your preferences and device compatibility. Personally, I recommend Savefrom.net due to its speed and efficiency with minimal ads.
Social media content is constantly evolving, having the ability to download and save the best moments ensures that you never miss a beat. So, give these social media video downloader apps a try and let us know which one you find most convenient for your needs.